The Blake at Taos Ski Valley by Mindful Escapes
Taos Ski Valley, NM, USA
The Blake sits just off Lift 1 for ski-in, ski-out access to Taos Ski Valley. The 80-room guest house offers hotel-style rooms and 1- to 4-bedroom suites, accommodating lone skiers and families alike. Known for its appreciation of local culture, The Blake is full of charming surprises, including unique art installations. Amenities include a fitness center, concierge and ski valet service, a state-of-the-art spa & wellness center, and an on-site restaurant, 192 at The Blake.

Some amenities may not be available due to COVID-19. Please note: we do not represent The Blake. For up-to-date information about pricing, amenities and services, click "Book Now" to visit the hotel website directly.
Concierge Service
Desk
Fitness Center
In Room Fridge
On Site Laundry
On Site Restaurant
Parking
Pets Allowed
Pool
Room Service
Safe
Spa
Slope Side
Terrace Or Balcony
Tv
Walk To Attractions
Rooms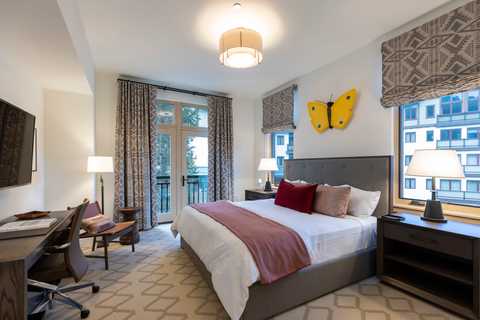 Multiple
The Blake at Taos Ski Valley offers a wide range of accommodations, from 4-bedroom penthouse residences to single-room suites. Please see hotel website for details and up-to-date pricing.
This Escape Is For
Skiers who want slope-side access to Taos Ski Valley.
Culture enthusiasts who value architecture & design.
Families who want residence-style accommodations with hotel amenities.
What Else To Know
Concierges at The Blake are called Hausmeisters. Ask these devoted locals anything, from restaurant recommendations to the best slopes for your ability.
Not ready to dine out just yet? You can order room service from 192 at The Blake.
Why We Love This Escape
Why We Love This Hotel: As part of Taos Ski Valley, The Blake shares the resort's values of protecting the environment, caring for employees, and supporting the local community. These values are expressed under Taos Ski Valley's "Ski the Change" initiative, which covers everything from energy efficiency to providing a living wage. Read more here: https://www.skitaos.com/who-we-are
---
More From Mindful Escapes
Sign up for monthly inspiration.