Hotel Terra at Jackson Hole by Mindful Escapes
Jackson Hole, Wyoming, USA
The eco-friendly Hotel Terra is a short walk from the Aerial Tram for easy access to skiing at Jackson Hole. Known for its service and luxe amenities, the hotel has two on-site restaurants, a rooftop spa, and a mountain-side infinity pool with views of the slopes. The hotel also has a fitness center with men's and women's steam showers.

Some amenities may not be available due to COVID-19. For up-to-date information about pricing, amenities and services, click "Book Now" to visit the hotel website directly.
Concierge Service
Desk
Fitness Center
Hot Tub
On Site Restaurant
Parking
Pool
Room Service
Safe
Spa
Slope Side
Terrace Or Balcony
Tv
Walk To Attractions
Wifi
Rooms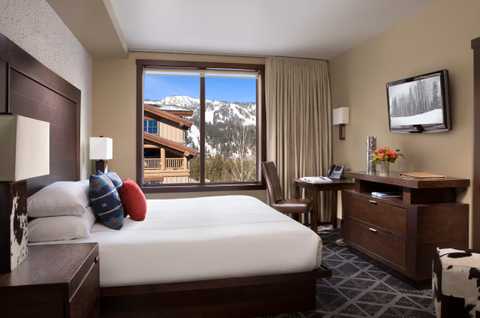 Multiple
Hotel Terra offers multiple accommodation types, from hotel-style single or double rooms to residence-style suites with kitchens, living rooms and common space. The largest suites are 3 bedrooms.
This Escape Is For
Skiers who want access to Jackson Hole with the amenities of a luxury hotel.
Eco-minded travelers who want to support a hotel that commits to sustainable practices.
Guests who want a front-row seat to the national parks and year-round recreation of Jackson Hole.
What Else To Know
Hotel Terra has an 8% Occupancy Fee that is in addition to the nightly room fee. This fee is meant to support the community infrastructure. See more details at the Hotel Terra website.
Not sure where to ski? Ask a Ski Valet. All guests have access to the hotel's team of valets, who collect and store skis, share lift status information, and offer recommendations based on ability.
Why We Love This Escape
Why We Love This Hotel: The LEED-certified Hotel Terra commits to sustainability through energy efficiency and a robust recycling program, right down to its countertops. The hotel also uses organic mattresses, towels and bathrobes. Read more about its environmental practices here: https://www.hotelterrajacksonhole.com/eco-facts/
Starting At
$504

 

Per Night
 Book Now
---
Wyoming
Lodging
national parks
skiing
---
More From Mindful Escapes
Sign up for monthly inspiration.